An In Depth Guide to "TATENOKAWA"
Volume 4 introduces two of our signature products: SEIRYU & MIYAMA NISHIKI NAKADORI, in addition to the sake yeasts we use to make them.
Volume 4 - "TATENOKAWA" Junmai Daiginjo: SEIRYU & MIYAMA NISHIKI NAKADORI, and the Yeasts Used to Make Them.
"TATENOKAWA" — Introduction of Signature Products.
2 Signature Products
SEIRYU
English: STREAM
MIYAMA NISHIKI NAKADORI
English: MIDDLE-CUT
Product Photo
Raw Ingredients
Rice, koji
Rice、koji
Sake Rice Varietal
Dewasansan (special rice for brewing grown in Yamagata Prefecture)
Miyama Nishiki (special rice for brewing grown in Yamagata Prefecture
Rice Polishing Ratio
50
50
Yeast
Yamagata KA、Kyokai 1801
Yamagata KA
ABV
14-15
15-16
Sake Metre Value
-2
+2
Acidity
1.3-1.4
1.3-1.4
Amino Acidity
1.0
0.9
Product Description
Named after its lightness and transparency. Made with Yamagata Prefecture original sake rice Dewasansan, milled so that only 50% of the grain remains, and with less alcohol than standard sake at 14%, the palate is light, fruity and vivacious with a slight hint of acidity, followed by a gentle smooth finish. The charm of this Junmai Daiginjo has to be its low price. Recently awarded a gold medal in the main section of the 2015 'Sake That Tastes Good in a Wine Glass' awards.
Middle-cut is the name given to the part of the sake mash with the best balance of aroma and flavour. Made with the sake rice variety Miyama Nishiki, cultivated by our own sake rice research institute, this is a sake that shows off the best characteristics of the rice: a deep sharp citrus like acidity. A slightly reserved nose lends itself to an expansive rustic flavour. A clean sake with a good balance of acidity that pairs well with all types of food.
Optimum Drinking Temperature
Around 15℃
Chilled: Around 15℃、Warm: Around 45℃
Tasting Map
The flavours of our 2 signature sakes is mapped out below: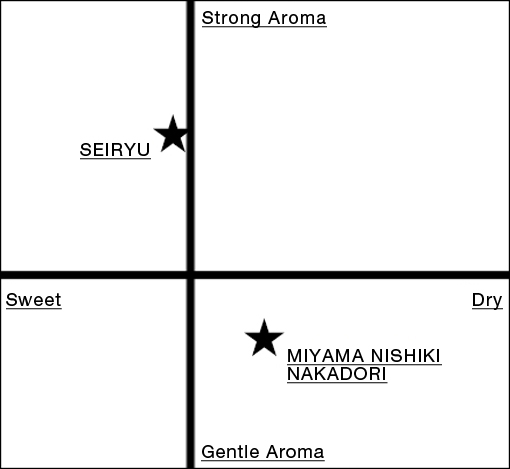 The Yeasts
Without the yeast there would be no alcohol. After the starch in the rice has been turned into glucose by the koji, it is eaten by the yeast to produce alcohol. Furthermore, the yeast plays a big role in determining the aroma of the end product.
| Yamagata KA | Kyokai 1801 |
| --- | --- |
| Obtained from Society No.9 yeast with a view to improving the quality of Yamagata's sake. It produces gentle melon and banana like aromas. | A hybrid of Sake Yeast Society No.1601 and No.901 created by the Brewing Society of Japan. Its characteristics include colorful Ginjo-like aromas of apple and pineapple. |
In order to make sake that is intrinsic of Yamagata Prefecture we use only the above two yeasts to make our sake. This includes blending together both Yamagata Prefecture KA and Sake Yeast Society No.1801 and or using Yamagata Prefecture KA on its own.