An In Depth Guide to "TATENOKAWA"
Volume 2 explains the reasoning behind our Junmai Daiginjo-only production.
Volume 2 - The Aim of Junmai Daiginjo-Only Production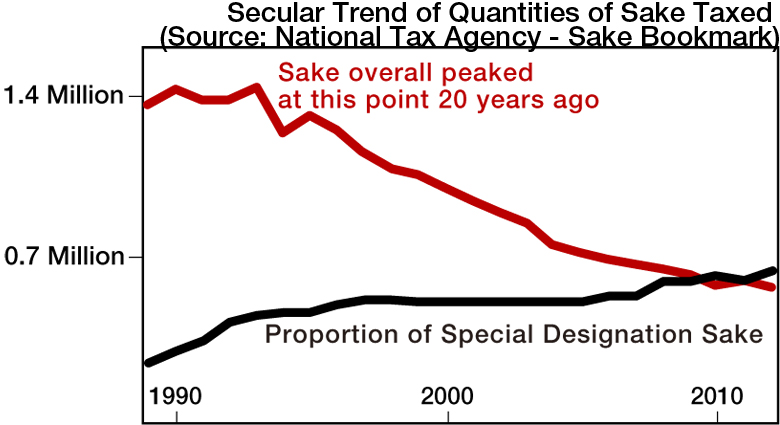 The Reason Why We Decided to Specialise in Junmai Daiginjo
In recent years, the sake market has changed dramatically. As the graph on the right shows, sales of sake have almost halved since a peak 20 years ago and there is a continuing shift towards higher-grade sake. In order to adapt to this shift and to set ourselves apart from other breweries, in 2010 we began Junmai Daiginjo-only production. The aim was not to belittle alcohol added type sake but to strive to produce delicious sake using only the rice, koji and water to achieve this. The two main reasons for this shift are explained below.

1.Easy to Understand
Special-designation sake is categorised based on 3 factors: raw ingredients, rice polishing ratio and brewing process, into the grades honjozo, junmai, ginjo, daiginjo. However this categorisation can prove quite confusing and is one reason why a lot of people are put off by sake. We wanted to make our sake easier to understand, to make it more accessible to not only Japanese people but also foreigners. The current product line-up includes a variety of different Junmai Daiginjo each with a seasonality and authenticity that offers the drinker a glimpse inside the brewery itself.

2.Quality Focus
By specialising in the highest grade of sake Junmai Daiginjo, we established a clear goal that ensures the quality and authenticity of our sake for another 100 years. There is of course, just as much potential in the other Junmai and Honjozo categories but we wanted our focus to be on quality and constantly improving that quality; thus we opted for Junmai Daiginjo.

We hope that this focus on quality, and the simplicity of our sake will help to create more sake lovers and contribute to developing the sake market as a whole.
"TATENOKAWA" 100 Year Vision
— To Make Sake That Will One Day Lead the World
At the end of the Second World War, it is thought that were almost 7000 sake breweries. This figure peaked in 1975 but has been on a steady decline ever since. Presently, as of 2014, there are only 1300 breweries that actually make sake. We plan to make sake popular again by spreading sake culture and tradition throughout Japan and beyond. Our goal is to make sake that appeals to and is recognised by people globally.

Give pleasure to people through the taste of sake.
Sake brewing of the highest quality that is adored by many.
Globally recognised sake brand "TATENOKAWA" by 2030.
A company that through its employees, continues to grow for another 100 years.
A sake that is served at all the best restaurants across the world by 2110.
The Quality That "TATENOKAWA" Strives For
The "TATENOKAWA" sake lineup is made up of a mixture of 10 different, regular, seasonal and special edition products but the taste profile follows the same basic principle of "Clean sake that has an aroma and umami".
We hope that this volume has offered a little insight into the reasoning behind our switch to Junmai Daiginjo-only sake production and our future goals.