THE STATE OF AGRICULTURE
Are you aware of the farming situation?
Newspapers often run stories that the nations self sufficiency ratio has dipped below 40%.
A surplus of rice is a serious problem.
The price of rice grown in 2008 was tragic.
Yamagata Prefecture is dependent on the farmers so to say it is a farming prefecture is no exaggeration.
But the reality is that the prefecture cannot survive off of rice alone. The current agriculture is a result of trial and error growing of different crops like vegetables, fruit, and flowers.
The nation is somehow keeping its farmers afloat by charging high duty on crops,
but no one knows what the future holds.
YAMAGATA PRODUCE
| | |
| --- | --- |
| Fruit | Production Yield Nationwide Ranking |
| Cherries | 1st |
| La France | 1st |
| Grapes | 3rd |
| Apples | 4th |
| Persimmon | 9th |
| Peaches | 6th |
| Melon | 3rd |
| Plums | 4th |
Lands referred to as the Fruit Kindgom of Yamagata.
Summer through to Autumn day to night extremes of hot and cold have gifted Yamagata with a rich history of cultivation of many different types of fruit.
There is something for every season.
KODAKARA Product Focus
As well as using domestic products, the focus is on produce from Yamagata.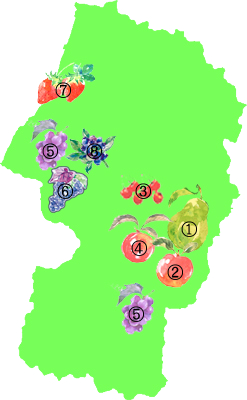 | | |
| --- | --- |
| Produce | Area |
| 1. La France | Tendo City vicinity |
| 2. Apple | Tendo vicinity |
| 3. Cherry | Sagae vicinity |
| 4. Plum | Nakayama Town vicinity |
| 5. Grapes | Tsuruoka City・Nanyo City |
| 6. Wild Grape | Tsuruoka City |
| 7. Strawberry | In between Sakata and Tsuruoka City(Coastal) |
| 8. Blueberry | Tsuruoka City |