6th Generation Brewer Sato Jumpei's Resume
"KODAKARA" DAIGINJO UMESHU — Premium Product Quality Induced Torment ("TATENOKAWA" Newspaper 10/10/2014)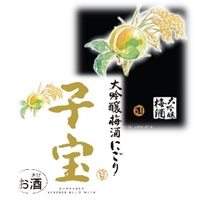 In the last issue, I wrote about the development process behind our YOGHURT LIQUEUR. This time I would like to tell you all about "KODAKARA" DAIGINJO UMESHU, a product that sits alongside the YOGHURT LIQUEUR as a representative of the range.

From the word go in 2007, we had never once used sake as a base for the liqueurs. One reason for this was the difference in concept between our sake and liqueurs, and secondly, we decided that the sake would turn and get in the way of the flavour of the fruits and yoghurt. Thus we had decided against using sake, despite the fact that in the industry at the time there were plenty of good examples of plum wine and liqueurs made with Junmai or other types of sake as its base.

We did wonder though, how a plum wine made with sake, or even Daiginjo as its base might turn out? And from that little question came one little tank of plum wine made with a base of Daiginjo.

We used regular products unsparingly such as Daiginjos or Junmai Daiginjos made with either Yamada Nishiki or Dewasansan rice, products that had been in refrigerated storage since bottling.

However, the final product ended up retailing around 6000 yen (excluding tax). Even if it was a plum wine made by a sake brewery, made with sake, Junmai type sake as its base, there was nothing in the market that retailed at such a high price, 3000 yen for a 1.8L bottle being more the norm at the time. By using Daiginjo as the base we had set the initial costs very high; most sakes that retailed at that sort of price just simply didn't sell. We felt that we had gone a bit too far. It was a pity because the aroma and flavour, not to mention the delicacy were actually quite good……..

We were about to enter that very plum wine into a contest, a move that would reshape the fate of the product.

* Photograph Top: DAIGINJO PLUM WINE / DAIGINJO NIGORI. There was no denying the quality, flavour and aroma; but because of the high price, when it went on sale, we would have a fight on our hands.
6th Generation Brewer Sato Jumpei