6th Generation Brewer Sato Jumpei's Resume
From Umeshu to Yamagata Fruit ("TATENOKAWA" Newspaper 11/06/2014)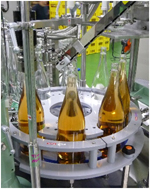 Thank you for your continued support.

TATENOKAWA, Inc. 6th generation brewer Sato Jumpei here!

The last issue looked back at the start of production of our "KODAKARA" PLUM WINE for which we ended up receiving a lot more orders from distributors than we expected.

It is only now that I can confess that at the time we were not using Nankou plums from Wakayama Prefecture so from a craftsman's point of view the flavour was far from satisfactory, but despite this, for some reason — perhaps it was the good timing — the first tank was a sell out. This prompted me to notice an entirely different market, from that of sake, for plum wine and liqueurs. Up until that point, my view about liqueur production was that it was not something a sake brewery should ever do, that it was taboo; however the shock success of the plum wine made me think again.

Next, to see whether we could follow the plum wine with other authentic Yamagata-esque liqueurs, we got cracking on a "KODAKARA" series of liqueurs that would make the most of what the fruit kingdom of Yamagata had to offer. I myself, was able to experience a different kind of joy to sake making, so much so that we would end up with a range that fully showed off Yamagata including grapes, La France pear, mountain grapes, etc. It is easy to take it all for granted now, but I remember feeling the thrill of introducing what were completely new, never-seen-before products to the marketplace.

*Photograph Top: The bottling of the plum wine. At present, we produce 6 different types of plum wine, including the mixed-with-fruit-juice type.
6th Generation Brewer Sato Jumpei