6th Generation Brewer Sato Jumpei's Resume
The Raw Ingredient — The Rice ("TATENOKAWA" Newspaper 13/05/2013)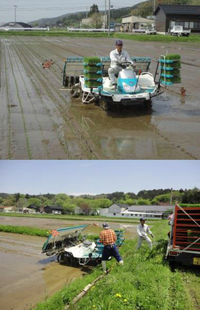 We are currently producing only Junmai Daiginjo made with one of three varieties of rice: Dewasansan, Miyama Nishiki and Yamada Nishiki. For 8 years now, we have been contracting out the cultivation of Dewasansan and Miyama Nishiki. In this issue, I will tell you how it all started.

While the only raw ingredients of sake are rice and koji, at present a lot of breweries entrust the procurement and supply of the key ingredient the rice to rice suppliers and the various brewer's associations.

As I am sure you know, sake rice is different to cooking rice in that the stem is longer and the ear heavier, making it an extremely difficult type of rice to cultivate, so it is not something that a lot of farmers want to make. And then, above all, a shortage of young farmers is putting agriculture in a bit of a worrying predicament.

Under those circumstances, I myself was worried that we would one day become unable to procure a good quality stable supply of rice.

That is when we decided to act independently, to sign contracts with local specialist farmers and ask them to make Dewasansan and Miyama Nishiki for us.

There are lots of reasons why but the main reason has to be that we wanted to secure good quality rice that had been made by farmers who we knew personally.

At first, it was a bit of a struggle because none of the farmers had made sake rice before, but we now have contracts with 11 farmers who between them produce approximately 23 hectares of rice.

"Let's procure contract cultivated rice, polish it in house and make sake"

This simple principal is I believe the core principal of sake production.

Thank you for reading all the way to the end.
6th Generation Brewer Sato Jumpei