6th Generation Brewer Sato Jumpei's Resume
High School Days ("TATENOKAWA" Newspaper 10/07/2012)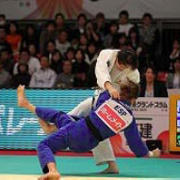 I attended a high school in Sakata City: Sakata East High School.

Apart from the winter months, I biked to school every day: a 20km return journey that took me about 30 minutes; strangely I did so with ease. However the Shonai region is a very windy area so when there was a headwind, it was no laughing matter — I was often almost in tears (laughs).

The regional high school baseball qualification heats are almost upon us. Most of my memories of high school are of the school baseball club. It wasn't a particularly strong baseball team, but 9 of us were classmates so although it was challenging, it was fun. Unfortunately, a broken shoulder in my second year stopped me from achieving the sort of results I wanted, but I feel that the fact I stuck baseball out gave me the sort of inner-confidence that I possess today.

If I were to pick just one other memory apart from baseball, it would have to be the school judo championships. In the winter of my second year, a judo tournament was held that pitted each class against each other, and for some reason I was appointed the role of Taisho (leader). Each class's Taisho faced another class's Taisho in the heavy weight category. I played my trump card: the 'forward foot sweep', and was able to sweep them all aside without a single loss. The 'forward foot sweep', a move where you sweep your opponent's foot out from under them causing them to lose balance and fall sideways, actually the only judo move I know, was enough to lead me to an outright victory (sweats). That was the last time I ever practiced judo, but is nevertheless a fond high school memory.

I wonder how high school was for everyone else?
6th Generation Brewer Sato Jumpei