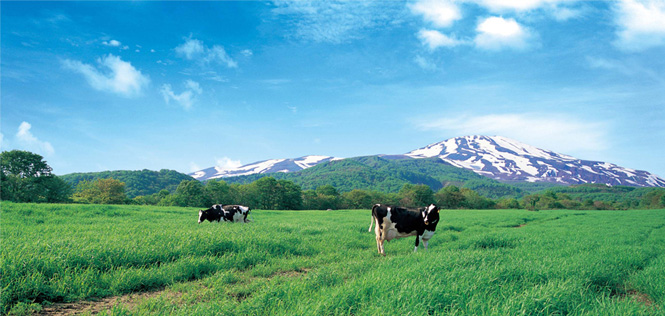 Origin of the Brand Name
We took one of the brewery's old brands from more than 40 years ago, which at the time was used exclusively for sake sold in the local Shonai Region, and revived it into the brand for our fruit liqueurs.
It is a brand born from our desire to create an 'edible' fruit liqueur that targets both a female and younger alcohol shy audience.
Concept
'Edible' fruit liqueur "KODAKARA"
Made with the dedication of 250,000 farmers in Yamagata Prefecture
An embodiment of the seasons of the fruit growing kingdom of Yamagata.
Serving Suggestion
On the rocks or mixed with soda、straight、mixed with other liqueurs, or just drink it anyway you like.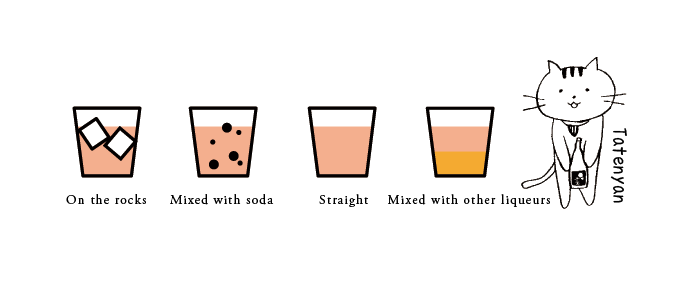 * See this link for more information about Tatenyan
Seasonal Calendar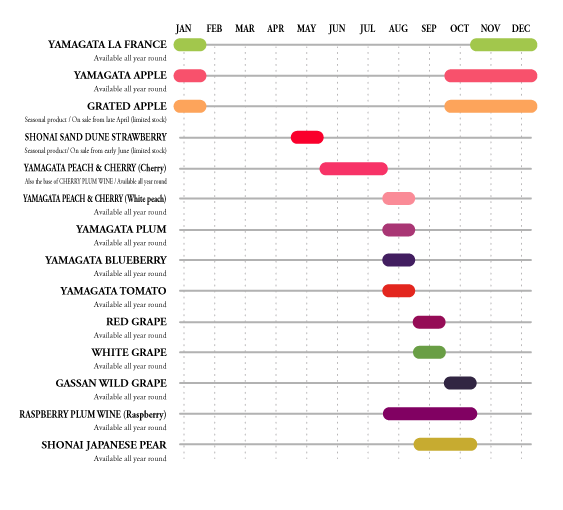 From Harvesting to Shipment
The majority of the lineup is made with fruit grown and harvested in Yamagata Prefecture. Fruit harvested by the farmers is converted to juice, to which brewer's alcohol and fructose are added.
It takes about one month from harvesting to complete the juice-conversion stage. The juice is then, depending on the variety, either refrigerated or frozen before being bottled according to a schedule that allows us to manage the stock levels. The time required for juice-conversion means that shipment may from time to time fall out of season.
We appreciate your understanding in this matter.
Characteristics
Selling Points
A taste that to even a young and female audience is uncomplicated and easy to drink
A juice-like taste sensation.
Many different ways to drink.
Made mostly with fruit grown in Yamagata Prefecture. (Excluding the special category)
A product that sets us apart from other breweries.
A fresh new choice for the eatery that wants to offer something different from your everyday cocktail.
A clearly defined unique flavor.
Notes of Caution
Do not shake before opening
After opening, shake well before consuming
Exposure to sunlight may cause slight discoloration
After opening, refrigerate and consume immediately
A bad harvest may cause certain products to go out of stock